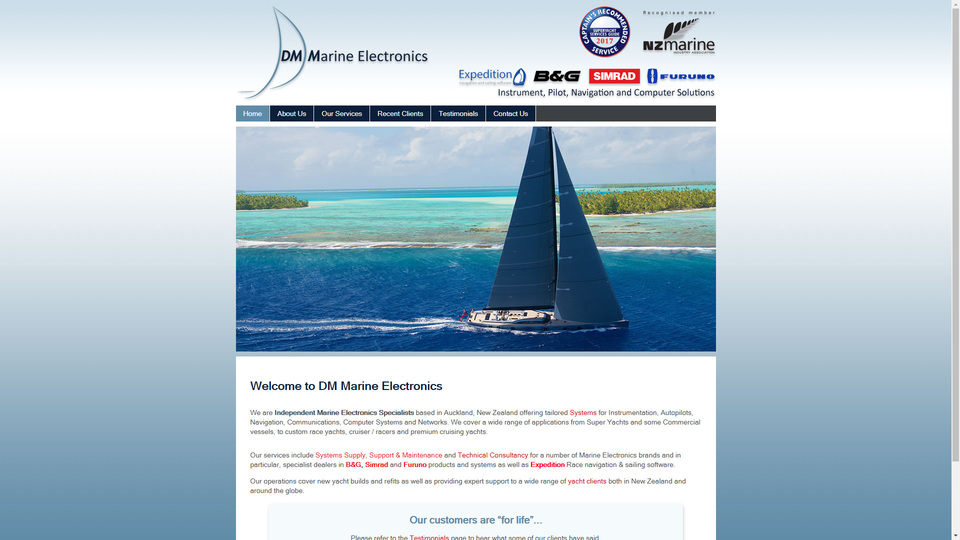 DM Marine Electronics' logo and a selection of photos were the inspiration for this site's design. Features include:
Rotating slideshow banner which works on all platforms
Custom-built template with easy user interface
Use of sub-menus for logical organisation and navigation of information
"Virginia Cattell was recommended to me in the first place by a business colleague of mine so that was a good start. After my first meeting with Virginia to discuss my new website, I felt comfortable and confident to proceed. She made the whole process pretty straightforward and clearly explained the key elements to getting the website looking nice and conveying the key information in all the right places.
Once I supplied suitable information, text, pictures etc and explained what I wanted out of the site I left her to it for a couple of weeks. On my first viewing I was pretty impressed with what I saw, clearly Virginia had used good initiative to manipulate my text and pictures into what she felt looked best in the context. The final design and layout was agreed and I was up and running with a really nice website inside a few weeks. The feedback I have had from my clients and other visitors has been nothing but praiseworthy.
I am really happy with Virginia's work and she really knows her stuff when it comes to optimising key words etc for internet searches and how to optimise web presence.
I have no hesitation in recommending Virginia for website development and hosting at a very reasonable price." - David Minors